The American Planning Association (APA) is the largest national organization to advance the broad spectrum of professional planning—advocating for planning excellence, education, resident empowerment, and practices of equity and inclusion throughout its 47 state Chapters. The Capital District Planners Association (CDPA) is one of five Sections under the New York Upstate Chapter, sharing the mission to encourage local involvement from a wide range of interconnected planning disciplines, with local officials, students and interested members of the community.
The CDPA Section serves: Albany, Clinton Columbia, Essex, Franklin, Fulton, Greene, Hamilton, Montgomery, Rensselaer, Saratoga, Schenectady, Schoharie, Warren and Washington Counties of the New York Upstate Chapter.
From urban design to environmental resiliency, planning is scalable, and CDPA aims to provide resources for education, professional, and career development from public to private sector.
Why joining matters. At 300+ members, we increase your exposure to other professional planners and dynamic groups, at both a local and regional level. Let us help you build relationships, gain referrals and AICP certification maintenance credits.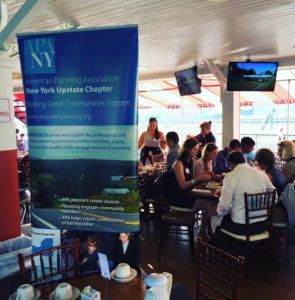 Get connected, stay engaged, and sharpen your networking skills through exclusive member-driven and career-oriented events in the Capital District. Your participation and affiliation enriches our planning community, and helps shape the diverse opportunities we provide to all of our members and participants.
CDPA activities and events help planners build connections within the professional planning community in the Capital Region.
Mark Castiglione
NYS Upstate Chapter
During my time on the board, I worked to provide members with 'behind the scenes' tours…. events and continuing education that CDPA provides, allows planners to expand their knowledge, diversify their experience and put a fresh lens on the world in which we're often playing an influencing role.
Martin Daley
Past CDPA Board Member